Better performance starts with better meals. The equation seems simple enough. It makes sense that nourishing our bodies with healthy, nutritious ingredients will provide the energy needed to fuel muscle activity and physical propulsion. However, life has a way of making us forget just how important the right stuff is. As a result, many people reach for what's fast instead of what's optimal. Unfortunately, this can backfire pretty quickly if you're living an athletic lifestyle. Here's how poor sports nutrition can affect athletes:
Poor performance
Longer recovery times
Immune suppression
Weight gain
Malnourishment
Hormonal imbalances caused by nutritional deficiencies
Being reminded of how good nutrition supports athletic performance becomes very important once you consider what's at stake. A good diet isn't just going to set you up for success on the track or field today. It will insulate your body against injury and disease for the rest of your life. Take a look at what science reveals about plating up for life on the fast track.
Performance Nutrition: Here's What's Essential When You're Eating for Athletic Performance
Eating properly for sports nutrition really comes down to balance. What should your plate look like when you're eating for power? Here's a look at the essentials that athletes need to have in their diets based on a thorough analysis of sports nutrition for young athletes published in 2013:
Macronutrients: Athletes can enjoy strength and endurance using carbohydrates, protein, and fats that fuel physical activity. Yes, they're all necessary when you're going hard. Of course, eating the right proportions is everything.
Related Article: Beyond the Basics: Why Tracking Your Macros Matters
Carbohydrates: While some people malign carbohydrates because they assume any carbohydrate is a simple carbohydrate, the truth is that complex carbohydrates from whole, healthy sources are vital for performance. Some healthy sources of carbohydrates include whole grains, fresh fruits, milk products, vegetables, and yogurt.

Protein: This is a big one. While everyone needs protein, athletes need it direly because protein helps to build and repair muscle. There's also a "vanity" aspect to eating enough protein because protein helps to keep hair, skin, and nails healthy and glowing. Some excellent sources of tasty, nourishing protein for athletes include fish, eggs, poultry, nuts, beats, and dairy.

Fats: Fat is critical for helping athletes to absorb essential fat-soluble vitamins like A, D, E, and K. Consuming healthy fats is essential for organ function, insulation, and energy. Adding healthy fat sources to a meal also helps to prolong satiation. This is so important when you're crafting a tailored diet because feeling full and satisfied for a longer period allows you to keep going without giving in to cravings caused by starvation cues from a lack of fat in your diet. Some ideal sources of fat for an athlete's diet include lean red meat, poultry, fish, seafood, nuts, seeds, healthy oils, and dairy products.
Deciding on portions is all about balance. When athletes attempt diets that are too restrictive, they rob their bodies of the essential nutrients and fuel needed to perform at their best levels. They also risk turning to foods that aren't on the plan out of sheer desperation because they are depleted. Of course, the opposite is also true. There is actually such a thing as "too much of a good thing" when eating an athlete-friendly diet.
A good example of this is protein intake. While protein is pushed as the perfect fuel for athletes, the truth is that it's very easy to eat too much protein. According to experts, most Americans are already eating twice as much protein as they need for proper muscle development. There isn't as much of a concern about overloading on protein if you're an active person. However, it's still important to know about the dangers associated with extreme protein diets. Consuming more protein than you need can lead to:
Storing increased excess protein as increased body fat.
Greater risk for dehydration caused by fluid loss.
Calcium depletion.
Kidney issues stemming from burdened kidneys.
There's also a risk that you're trying to replace carbohydrates with protein. The truth is that carbohydrates are necessary for athletes. The simple solution is to strive for a healthy balance instead of leaning on one food group as a way to try to cut out another food group. What does balance look like when you're trying to get enough protein while also peppering in some good carbohydrates? Something like a hearty burrito bowl with Spanish rice, cherry tomatoes, shredded cucumbers, carrots, hummus, and tzatziki sauce on the side checks all the boxes. The same goes for chicken fajitas with sautéed chicken thigh seasoned with a blend of spices, bell peppers, and red onions with steamed rice on the side.
Hydration: The True Powerhouse of an Athlete's Diet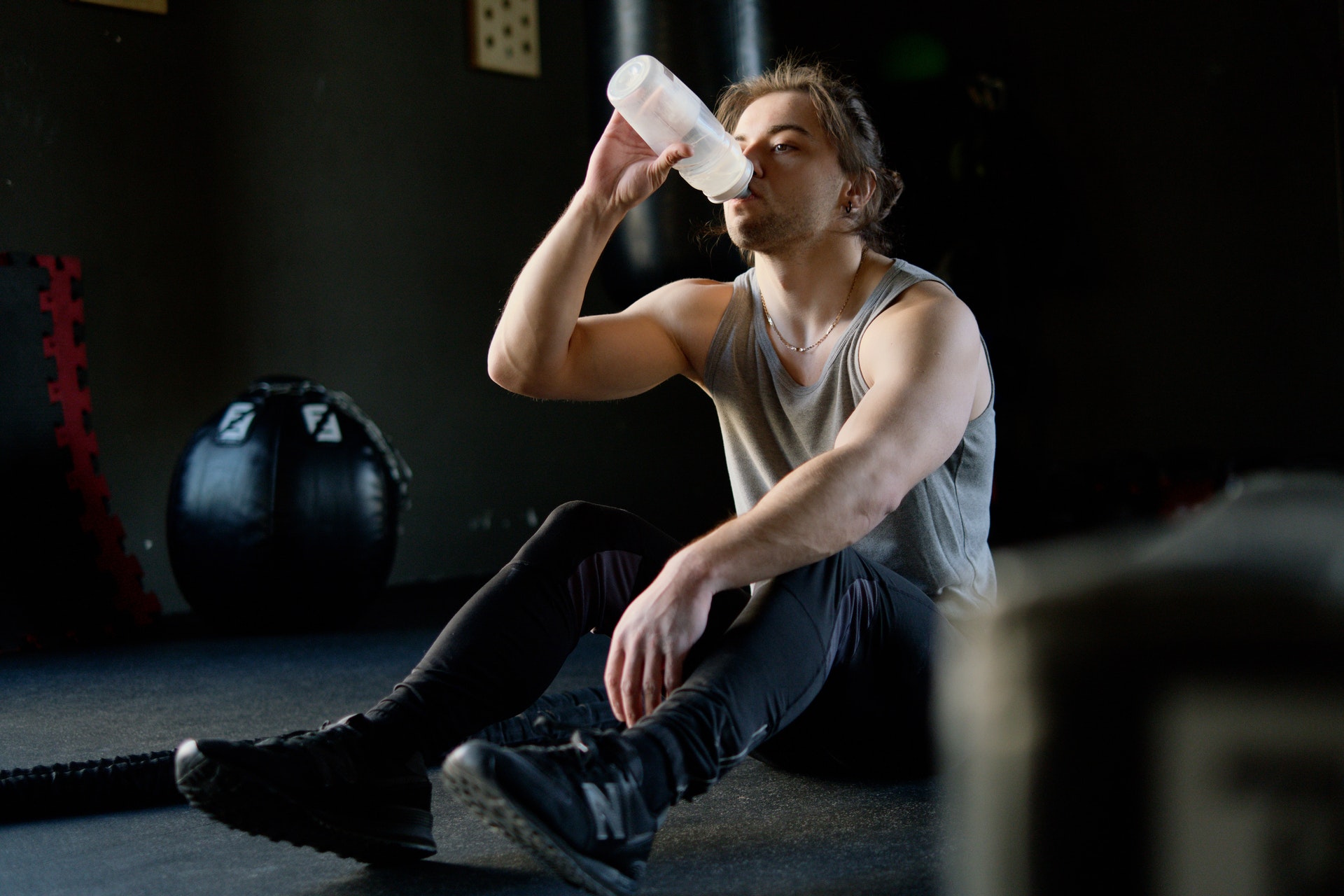 Healthy meals get results. However, even the most perfect meal plan in the world will go sideways if it's not followed up by a great hydration strategy. Water is so crucial for athletes. In addition to keeping your body hydrated, water keeps the body at the right temperature. It's very easy for athletes to lose water with just one workout. Just one grueling workout session can cause your body to lose several liters of sweat in just an hour!
How do you know if you're fully hydrated? The simplest answer is that you're producing clear urine. If you're seeing anything else, it's time to increase your water intake. Here are some tips for sticking to the all-important task of staying hydrated as an athletic person:
Drink fluids with every meal! While water is best, any fluid will provide you with some hydration.
The general hydration rule to have in your mind is that you want to drink two cups of water roughly two hours before a workout. Never work out without enough water in your body!
It's OK to sip while you work out! Drink up to a cup every 15 to 20 minutes. If you're going hard past an hour, consider switching from water to an energy drink to keep your electrolyte levels at a safe place.
Remember that drinking isn't just an activity for when you're thirsty. In fact, you're probably already dipping into dehydration territory if you're feeling the physical sensation of thirst.
Water is always the preferred option for hydration. However, it's important to remember that enjoying hydrating treats can be a great way to introduce extra hydration into your life. Something like fresh-pressed juice is a tasty way to get hydrated. A healthy smoothie that provides refreshing hydration with the added benefit of plant-based protein and natural carbohydrates can fulfill some of your liquid requirements while also providing pure fuel.
Getting Smart About Meal Prep When You're an Athlete
If you're already busy, trying to squeeze in an athletic lifestyle can push you to the brink with managing your time. This is where many aspiring athletics types run into trouble. They get sick, hurt, or simply give up out of exhaustion because they don't eat the right foods to fuel what they are trying to accomplish. Planning is everything.
When it comes to performance nutrition, timing is key. You need to have meals readily available during the strategic points during the day when you should be fueling up both as a form of repair and preparation. Generally, you should be eating about three hours before a big workout session or event to allow for good digestion. Rushing to eat whatever you can before a session sets you up for gastrointestinal distress during your activity.
While fat is vital for fueling up, it's also important to know that high-fat meals should generally be avoided just before exercise because they can delay gastric emptying. That leads to you being slow, sluggish, and moody. Going on a long run in the morning? Breakfast is essential once you're done. Having avocado toast or egg white frittata waiting for you after the finish line is the best way to ensure that you have the energy and stability to tackle the workday that comes after the workout.
Timing your meals is important. However, planning ahead to know exactly what you'll be eating is even more important. It's very hard to have reliable output when you don't have reliable intake. That's why serious athletes schedule a whole week of meals ahead of time. This lets you map out nutrient levels to ensure you're getting the fuel you need based on your training days. Yes, meal prep is also essential for helping you steer clear of temptations that will make your workouts more challenging. We are all only human and thus susceptible to eating unhealthy foods when in a hurry or stressed. That's why it's crucial to have a good meal plan in place to ensure that indulging in goodies is a choice instead of a trap.